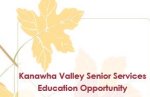 October 17th beginning at 10am: The University of Charleston School of Pharmacy is offering Free educational and hands-on programming to seniors and their caregivers centered around preventative health. The educational sessions will consist of two topic presentations, time for engaging with other attendees, and a question & answer period. Presentations will be designed and delivered by UCSOP faculty (certified in geriatric pharmacy) and student pharmacists.

Preventative Health Part 1: Immunizations and Seniors - Prevention is Worth a Pound of Cure

Preventative Health Part 2: Screenings for Seniors - What you need to know to Stay Healthy Longer
Location: Tiskelwah Senior Center - 600 Florida St. Charleston, WV


OPPORTUNITIES ARE AVAILABLE AT KANAWHA VALLEY SENIOR SERVICES, INC.
If you are seeking to make a difference KVSS could be the place for you. Everyday our employees come into contact with people that have a story to tell and have contributed to the history of the Kanawha Valley. We are always looking for special people to aid in the mission of KVSS.
Kanawha Valley Senior Services, Inc. does not discriminate against any individual on the basis
of race, color, religion, sex, handicap, disability, age, or national origin. EOE
Website Material Copyright Kanawha Valley Senior Services
Website Design, Marketing, &amp Management by CIS