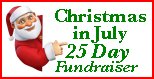 July 1st to 25th "Christmas in July - 25 Days of Winning Fundraiser" - A new twist to our fundraising efforts at Kanawha Valley Senior Services! We want you to join in our fun and help our cause! We are selling raffle tickets at $10 per ticket to help support all of our senior programs- in home services and congregate and in-home delivered meals to seniors throughout Kanawha County. We have 25 wonderful prizes, baskets, gift certificates and more. We are drawing for prizes the first 25 days of July 2018- our 25 Days of Christmas in July! We are selling tickets NOW and will continue through July 24th. The more tickets you purchase, the better your chances to win over those 25 days! We hope you will be a part of this special fund raiser.

Our funding has not changed since 2008, so it has not changed with the cost of living and minimum wage increases. Consequently, we do not have enough funding to provide all the services that are needed. So, we came up with a creative and fun way to raise money- we need our community support to achieve our goal (or exceed) of $10,000. Call the office or email "Christmas in July" to buy tickets.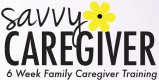 July 13, 20, 27 & August 3, 10, 17 (6 week training) "Savvy Caregiver" - Please register by calling Connie Hudson (304) 345-6755 or email [email protected]
Location: Tiskelwah Senior Center - 600 Florida St. Charleston, WV


OPPORTUNITIES ARE AVAILABLE AT KANAWHA VALLEY SENIOR SERVICES, INC.
If you are seeking to make a difference KVSS could be the place for you. Everyday our employees come into contact with people that have a story to tell and have contributed to the history of the Kanawha Valley. We are always looking for special people to aid in the mission of KVSS.
Kanawha Valley Senior Services, Inc. does not discriminate against any individual on the basis
of race, color, religion, sex, handicap, disability, age, or national origin. EOE
Website Material Copyright Kanawha Valley Senior Services
Website Design, Marketing, &amp Management by CIS